Doc Sportello's ex-girlfriend, Shasta Fay Hepworth, tells him that she's romantically involved with billionaire real-estate developer Mickey Wolfmann. She says Mickey's wife Sloane is having an affair with Mickey's colleague Riggs Warbling; together they're plotting to put Mickey in a psychiatric facility and make off with his fortune. Sloan and Riggs are offering Shasta big money for her help in their scheme. She believes she's being followed and asks Doc for help.
Tariq Khalil hires Doc as a go-between to retrieve money owed him by fellow ex-con Glen Charlock. Glen is a member of the Aryan Brotherhood, a white-supremacist group. Tariq is African-American and would prefer not to deal directly with those "Nazi-ass motherfuckers."
The Aryan Brotherhood provides security for Mickey.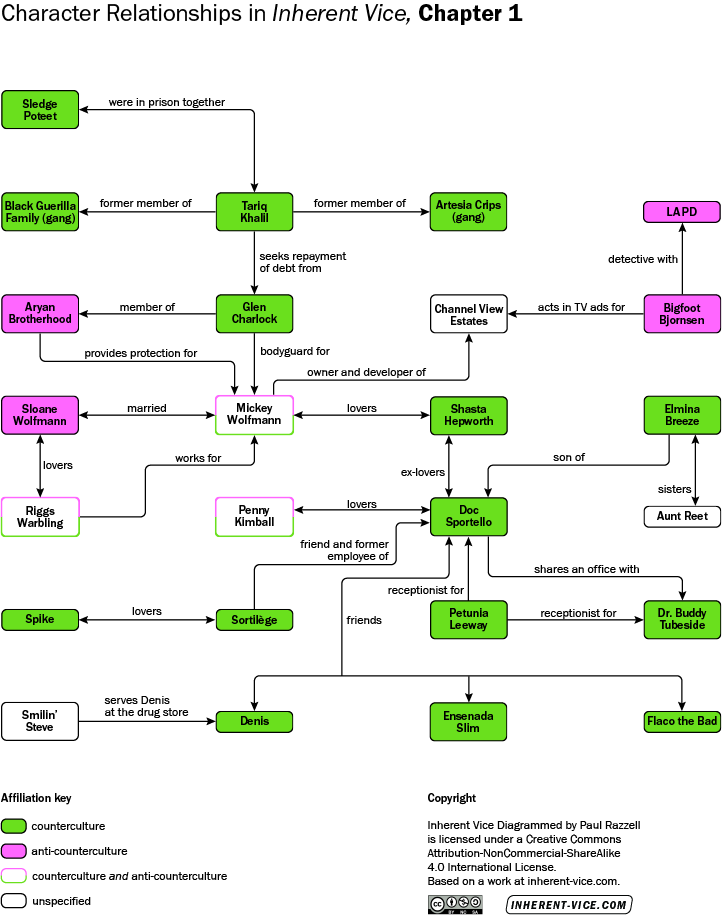 Download a PDF of this diagram.
Character Relationships in Inherent Vice, Chapter 1 — 153 KB PDF