Doc visits Sloane Wolfmann at her home to learn what he can about her husband's disappearance. Numerous police officers are guests at Sloan's house; they're hanging out in the pool, listening to rock 'n' roll, enjoying the catering—but not doing any investigative work. In fact, they're involved in "some kidnapping" (57). The narrator tells the reader this, therefore it isn't something that Doc can know.
This suggests (to the reader) that Sloane and the police have arranged Mickey's kidnapping, which is supported by Shasta's suspicion of a Sloan-Riggs plot against Mickey.
Sloane's lover, Riggs Warbling, is also at the Wolfmann home, and Doc learns that Riggs is designing meditation spaces called zonahedral domes (or "zomes") for Mickey's real estate development near Las Vegas.
Doc discovers that Sloane has donated a large some of money to an unnamed medical institution. We later learn this is the Chryskylodon Institute.
Sloane's maid Luz hints to Doc that Riggs Warbling has been stealing from the house.
Doc suspects that Bigfoot's fellow detective, Lester, is informing on Bigfoot to LAPD bosses.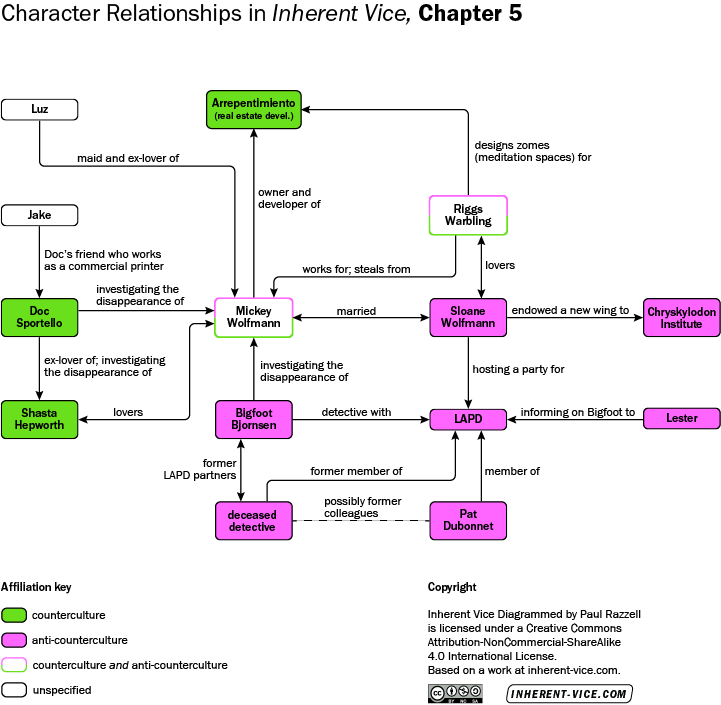 Download a PDF of this diagram.
Character Relationships in Inherent Vice, Chapter 5 — 136 KB PDF