Doc visits the Kismet Lounge and Casino, where Trillium has arranged for him to meet Puck Beaverton. The Kismet Lounge offers patrons the opportunity to bet on whether Mickey Wolfmann is still alive, and even to bet on whether Mickey staged his own kidnapping. Doc bets Tito's $100 at 100-to-one odds that Mickey did not have himself snatched.
Kismet Chief Operating Officer Fabian Fazzo tells Doc that the Justice Department has a "big master plan to get the casinos away from the Mob. In particular, the Justice Department would love for Mickey Wolfmann to buy the Kismet Lounge, for which they have already developed their own plans to renovate. These plans involve replacing mechanical slot machines with digital ones, which can be "controlled from someplace else." This switch from mechanical to digital would thwart old-school hustlers like Puck Beaverton and Einar.
While at the Kismet Lounge and Casino, Doc is surprised to run into FBI agents Flatweed and Borderline, who are escorting Mickey Wolfmann out of the casino. Flatweed and Borderline are equally surprised to run into Doc for a third time, and are deeply suspicious of Doc's "curiosity about the Michael Wolfmann matter."
Flatweed tells Doc that Mickey has suddenly decided to "change his life and give away millions," and blames hippies (e.g., Shasta) for awakening Mickey's conscience. The FBI has Mickey on tape saying that he's atoning for a "life of making people pay for shelter, when it ought to've been free." (244).
The FBI pursues Doc, but Tito and Adolfo pick him up and drive him to safety.
Doc finally meets Puck Beaverton and learns that Puck and Trillium got married that morning. Puck expresses remorse that he could've done more to save Mickey and Glen.
Puck tells Doc about Mickey's plan to build a city in the desert where people could live for free. The city is called Arrepentimiento, which is Spanish for "I'm sorry." This is Mickey's "dream, his penance for once having charged money for human shelter." (249)
Doc and Tito visit Arrepentimiento and discover it to be an abandoned construction site. They explore the site and find Riggs Warbling living in one of the units and nursing revenge (murder) on Mickey. Riggs relates that "they" (i.e., Chryskylodon Institute and the FBI) "did something" to Mickey around the time he disappeared so that he is no longer an "acid-head philanthropist." Mickey has made a deal with the Justice Department to "finance the renovation and expansion of the Kismet Casino and Lounge, where he's become an active partner."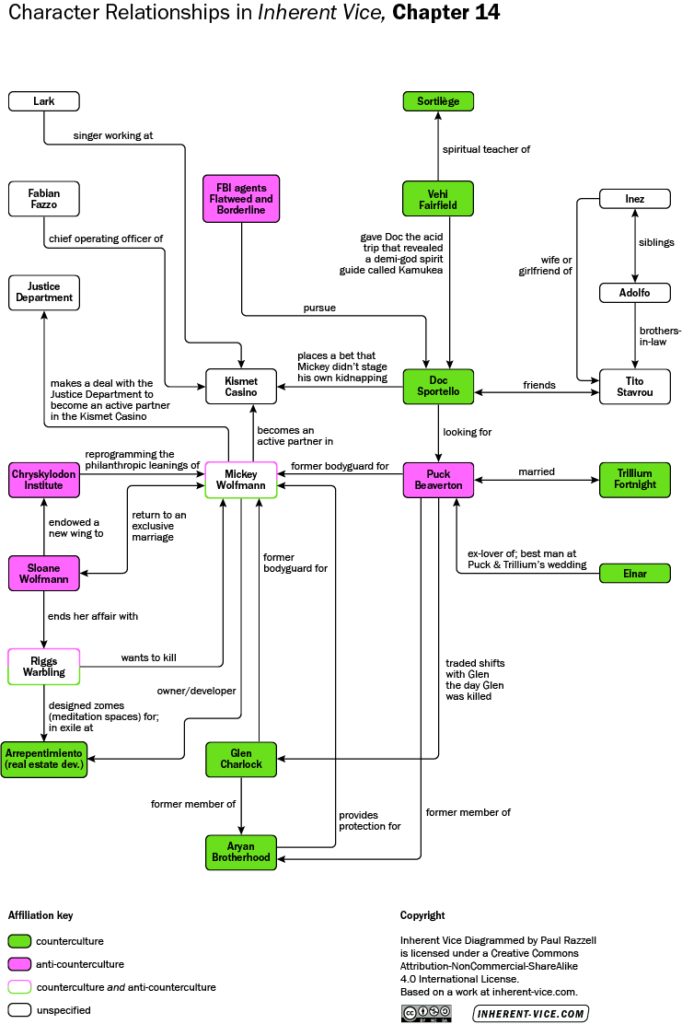 Download a PDF of this diagram.
Character Relationships in Inherent Vice, Chapter 14 — 141 KB PDF